Posts Tagged was
When talking to developers about WebSphere Application Server Liberty Profile (the new lightweight, ultra fast and developer friendly profile for WAS), I always receive questions about supported JSRs and comparison with Java EE 6's Web Profile.
Therefore I collected information from documentation, blogs, internal IBM forums etc … to create the following list.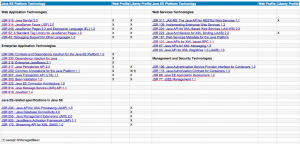 (click to enlarge 🙂 )
This is *not* an official IBM document, just a compilation I gathered from various sources.  Please feel free to point me any missing or incorrect entries.
[UPDATE]
The official list of API supported in Liberty profile is now published in WAS 8.5 product documentation.
[/UPDATE]
Enjoy !