I am about to release another iPhone application allowing users to visually manage voice mail messages left on their enterprise messaging solution, based on Oracle Beehive Collaboration and Communication Suite.

This application is similar to Apple's Visual Voice Messaging application that is deployed for some carriers.

Testing an iPhone application before it is deployed through the App Store might be tricky and is reserved for users having a minimal technical knowledge.  This article describes the steps required to join a testing program and to collect logs and debugging information to be reported to the developer.

Before installing an application on your iPhone, it has to be digitally signed by the developer and by Apple (when distributed on the App Store).

For ad-hoc distribution, i.e., without going through the App Store, the application will be signed specifically for your device.  The developer needs to know your Device ID (UDID).
Step #1 – collect your UDID and send it to the developer
First step for beta testing an iPhone application is to collect your UDID and send it to the developer.
To do this, connect your device to your Mac/Windows and launch iTunes. In iTunes, select your device in the 'Devices' section and navigate to the Summary tab. Click on the Serial Number label to reveal the Identifier field and the 40 character UDID. Press Command+C (CTRL-C on Windows) to copy the UDID to your clipboard.  Then paste it (Command+V or CTRL-V) in a mail message.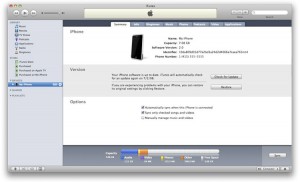 Step #2 – Install application
Once the developer knows your UDID, he will generate an application's release authorized to run on your device.  Most of the time, you will receive the application as a ZIP file through email or web site download.
Unzip the file you received
Drag'n drop the application in iTunes
Sync your device with iTunes to install the application
You should then see the application icon on your device.
Step #3 – Provide feedback and collect log files for crashes
We are interested to collect all kind of feedbacks and testing conditions
General application usage, ergonomy, performance etc … many of these are subjectives but all suggestions will be considered.  Sometimes suggestions will be integrated immediately, sometimes they will be planned for a future release.
Different devices – you're mostly welcome to test on older iPhone, iPod Touch or even iPad.
Slow / poor network connection.  Real life network conditions are difficult to test on a development machine, only real life usage, on the street, in a cab, in an airport etc …
If the application crashes or if you think you've find a bug, please report it as precisely as possible, in particular, I would like to know
what version you are using ? (version number is provided in the mail with the application)
what device you are using ?
what are the precise steps to reproduce ?
is it always reproducible or not ?
The application generate a log file that contains a precise description of what happens within the application.  Here are the steps to collect and send me log files.
With your device connected, run the iPhone Configuration Utility
Click your connected device
Go to the Console tab (see screenshot below)
Clear the log (button at the bottom to the left)
Try to install and/or launch the application and reproduce the error
Select the relevant log lines (or just everything)
Click the Save Console As… button and save the file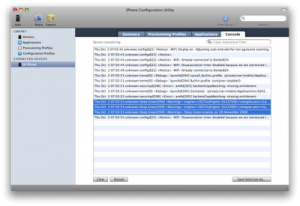 That's all for now.  Thank you for your valuable feedback !